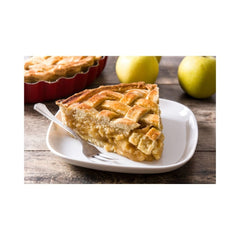 Ingredients to add: Butter 200 gr (7,05 oz), Water 90 ml (3.04 oz), Sugar 100 gr (3,52 oz), Apples 1 kg ( 35,27 oz), 1 Lemon, Milk as required to spread the dough. 
Recipe:
Put the Apple Pie mix in a bowl add butter and water.
Knead it, then let the dough rest in the fridge for 20 min.
Covered by a food-quality film.
Meanwhile cut apples into small places.
In a pan warm up sugar and spice mix and add 2 spoons of water and cook until you get large bubbles.
Add some curls of butter, apples cut into pieces and grated lemon peel.
Remove the dough from the fridge and divide it into two pieces.
Roll out one part of the dough with a rolling pin, than place it on the cake tin.
Fill it with apples.
Bake it in preheated oven at 392ºF spreading it with some milk every 10 minutes until golden brown.